We would like to point out here once again that an operation of the previous WIKI was no longer possible due to technical incompatibilities. Hence the switch to this system.
We apologize for any inconvenience.
The Massoth Wiki page is supposed to be a collection of instructions and tips & tricks.
It replaces the former forum.
This is of course not a static page, but it is constantly growing.
If you have any additions or suggestions, please email them to wiki um massoth.de
For technical questions please send an email to hotline um massoth.de
You do not need to register here!
Make sure you use the search function!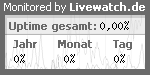 Servermonitoring mit Livewatch.de